I am a fan of the boxy bag and apparently, it's a good time to be a BB fan! Not only is
Velo-Orange
coming out with their own branded boxy bag,
pictured here
, but so is
Rivendell
and our favorite LA-native bike bag makers,
Acorn Bags
!
What a great time to be a cycle tourist!
Here's a quote from the Acorn site:

We pay homage to the classic boxy rando bag. Our main objective was to keep the design clean and utilitarian, while adding just a hint of style.

-The bag shown below is a prototype, but is 95% complete; the final might get a few minor adjustments.
-This is a "medium" size bag--11"W x 8"H x 6"D for the main compartment.
-Available in Tan or Black canvas.
-Note that a front rack is required for mounting.
-A decaleur can be added if you choose.
-It'll go on sale January 2.
-Price will be in the low $100's.




Image from the Acorn Bags site.



Here's a an excerpt from Rivendell:
In two weeks we'll have a new Nigel Smythe bag, the Big Box Bag. It is a big boxy squarish bag with the familiar features of other Nigel Smythe saddlebags----the quick-release buckles, the Scottish dry-hand duck fabric that's also used for Range Rover covers, the neat-as-a-button stitching, and the perfectly matching leather, from thick strap to thin trim (which you may take for granted, but is actually nearly seemingly impossible outside of the United Kingdom). It requires (practically) some kind of support beneath it, and the Top Rack or any other rack is ideal. You can strap it to those racks, and it's sans-a-wiggle.
(EDIT: The Riv bag is out but it's not a front boxy bag. Too bad, but still a nice bag nonetheless!)
It looks like there will be lots to choose from. Some other BBs I'm aware of are the Inujirushi Bags that
Jitensha
has on occasion.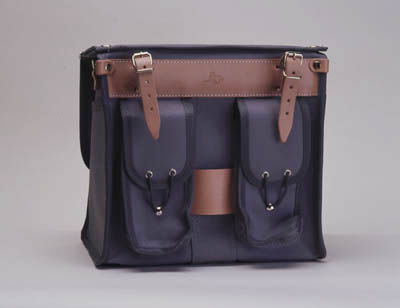 And of course, the exquisite Gilles Berthoud handlebar bags that you can order from
Wallingford Bicycles
.
Any other boxy bag aficionados out there?